3 Ways Camberley Business Owners can Banish the blues of Self-Employment [November 2021]
When I first became self-employed, it was such an exciting time.
I'd work all hours of the day and night to get my new business launched and growing.
Your priorities change when the pay packet doesn't just automatically arrive each month.
There's an urgency in your stomach that fuels you.
It all starts with missing the odd social event, you know, a client project needs to be completed. Deadlines.
Then on a rainy Monday, you sit staring into your coffee wondering where your social life went.
Your friends don't understand and you miss those water-cooler moments – chin-wagging about the weekends' television, the football, or what the kids have been up to.
Hundreds of self-employed business owners and freelancers can relate. A recent survey by Aldermore said 4 in 10 self-employed people feel lonely since becoming the boss.
Loneliness has huge health impacts, from depression to heart disease. So we've come up with three great ways you can counteract the downsides of self-employment.
So if you've cobbled together an office that looks nothing like an Ikea showroom workspace, it's time to take control and start to banish the blues.
---
1. Get out and get social.
Fed up with being home alone?
Ditch the isolation of self-employment and get out to regular networking events.
Meeting people face to face in a different environment can help recharge our entrepreneurial batteries. Local networking groups can also help us build friendships, find suppliers and also provide a sounding board for ideas.
First Friday Networking is a business networking group with regular meetings across the South and South East.
Unlike its more formal counterparts (BNI, OmniLocal, Enterprise Connections, etc.) First Friday provides a relaxed environment for freelancers and small business owners alike to get together and build relationships.
The concept is simple: free entry, no pre-booking, no 'lock-outs' – just an informal gathering in a welcoming environment – where people feel relaxed and under no pressure to perform a '60-second elevator pitch.
These FREE events, run by local business owners, serve the local business community by offering a venue to network, promote and exchange ideas.
A recent survey showed 68% of professionals value face to face networking over online. First Friday Networking groups are a great way to get started on the networking scene.
---
2. A change is as good as a rest.
The same four walls can start to become uninspiring. You've moved from the kitchen table to the spare room office, to the living room sofa. But sometimes a fresh environment can help us get a fresh perspective.
The COVID-19 pandemic saw a rise in the number of people working from home and saw a huge number of businesses close their doors. One great success from the lock-downs was hot-desking and co-working spaces.
In our local area, we've seen pubs, community co-working spaces and serviced offices all up their game to support the home working community.
Our picks around Camberley –
a) Co-work from the pub! The perfect Friday feeling for a co-working lunch.
Local craft beer pub, The Station Tap, High Street in Camberley, offers an amazing Co-working opportunity to freelancers and small business owners.
Book a 2.5-hour slot in the pub for just £10, between 9am and 4pm – Mon to Fri.
They lay on the hospitality too! – enjoy lunch, bottomless hot drinks or soft drinks, super-fast wifi and power sockets for charging your electronics – included in your £10 fee – a no brainer!
If you've been feeling like Dracula, you are turning pale and the daylight is starting to make you squint, this is a great way to get you back into the world of the living. (Why not get some entrepreneur friends together for a Friday working lunch, the alcoholic drinks upgrade is only a few pounds extra 🙂
Find out more and book here – The Station Tap

---
b) Login to a new way of working…
One of the newest facilities in Camberley is the Login Business Lounge.
Something we've been advocating for years is the need for town centres to provide workspaces for small businesses. The modern high street needs workers to be there and shop, but it also needs to support modern ways of working. The Login Business Lounge does just that.
It's an amazing 3-floor facility in the heart of Camberley to support a mix of remote workers, startups and companies looking to be more fluid in their property footprint. Having opened at the end of November 2021, we think the Login Lounge should be on every entrepreneur's bucket list of places to visit and work from.
There are some great plans in the pipeline to help support and inspire small businesses – from talks and workshops to social events. It's also a great place to host your meetings.
Find all the details – https://loginbusinesslounge.co.uk/
---
3. A little self care goes a long way
There are lots of things you'd never get away with when working in an office.
Like laying on the sofa checking your emails.
The thing is, offices were designed meticulously for work. There are loads of rules around ergonomics in the workplace to prevent nasties like repetitive strain injury, neck and back problems to name a few.
To be honest, they've gone out of the window with the rush to home working.
If you have pitched up camp on the kitchen table working from your laptop, or have a dedicated workspace a little self-care can go a long way. Long periods of time in the same position or in poor positions cause problems within our bodies.
One great way to take time out and release stresses and strains is the practice of Yoga.
The lovely Catherine Richardson runs Diversity Yoga helping business owners to utilise the skills of yoga to improve physical wellness and mindfulness.
With sessions held in person in Farnborough and online, there's a session to suit everyone – whether kickstarting the day at 9am or decompressing at the end of the day.
Struggling with back pain? Cathy also has a special ebook all about Sciatica and Back Pain packed with tips for Medication-free ways to keep your muscles and your mind relaxed.
Find out more at: https://diversityyoga.co.uk/
---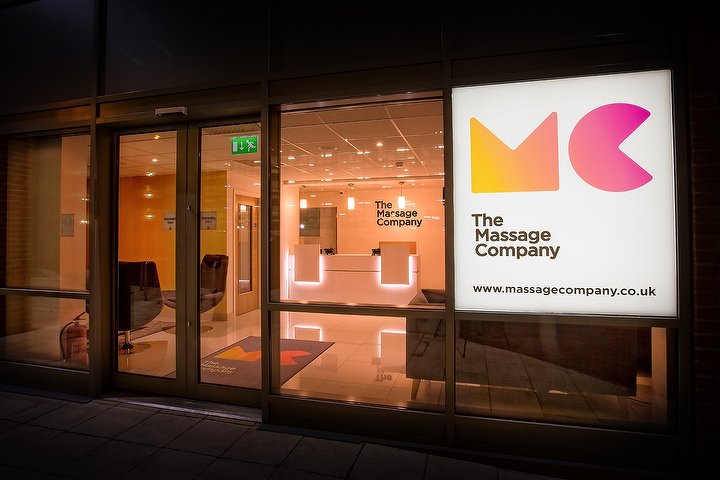 With over 5,000 years of history surrounding Massage in India, China and Egypt, there's a lot to be said for the healing properties of touch.
One of my personal favourites for alleviating muscle pains, tension and muscle spasms, is the Hot Stone Massage at The Massage Company in Camberley, Surrey.
Regular massage can release tension, improve circulation and posture.
Based in the centre of town, there is easy parking behind the centre, or just opposite in the multi-storey car park.
Both my partner Leanne and I love the bright professional atmosphere at The Massage Company. It's perfect as a treat, but the monthly membership is a great way to have some alone time away from the family and business.
---
Have we missed something?
If you've some tips, tricks or tactics to banish the blue of self-employment, we'd love to hear them. Why not comment below, or send them to us by email!
Photo by Ivan Samkov from Pexels